Game Console Repairs

We provide an affordable and reliable console repair service. Our skilled and experienced team is dedicated to getting you back in the game.



  
Information and pricing on common repairs is listed below. 




Our repair centre is in Portishead, near Bristol. You can drop your device in anytime, no appointment required. 




Please provide your power supply/charging cord, cables, controller and any relevant accessories so that we can fully test the device (and play some games).

Typical turnaround time on console repairs is 1-3 working days.




Clean & Service

Level up your console by getting it professionally cleaned and serviced.

Consoles are dust magnets. Over time, they fill up with dirt, debris, cat hair, insects, food particles, and Goodness knows what else. This can cause the device to overheat and underperform.




If you notice the device running hot, and the fan is working extremely hard, then it's time for a deep clean.

We strip and thoroughly clean the entire device. We also apply fresh thermal paste if required, as this degrades over time, or can be disturbed during disassembly.

Sony PlayStation 4 Clean & Service: £39.99
Sony PlayStation 5 Clean & Service: £59.99
Microsoft Xbox One Clean & Service: £39.99
Microsoft Xbox Series S/Series X Clean & Service: £59.99




Port Repair

Connections are easily damaged when inserting and removing cables from the console.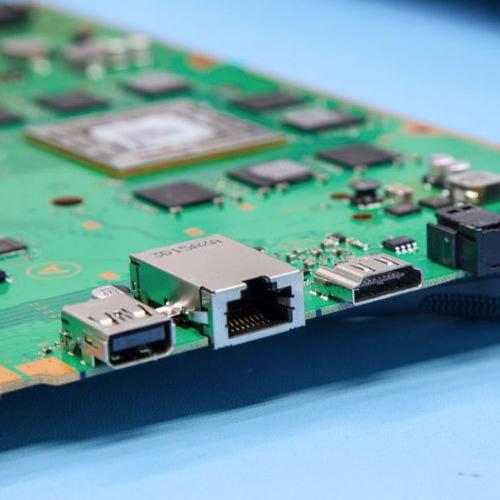 We can repair this by soldering a replacement port onto the motherboard. 

Sony PlayStation 4 HDMI Port: £74.99
Sony PlayStation 5 HDMI Port: £89.99
Microsoft Xbox One / One S / One X HDMI Port: £74.99
Microsoft Xbox Series S / Series X HDMI Port: £84.99
Nintendo Switch USB-C Charging Port: £79.99

In some cases, other internal components will need to be replaced.

Never remove the HDMI cable whilst the console is switched on, as this can blow a component called the Redriver.




PlayStation & Xbox Repairs

The following repairs typically require inspection and diagnostics before quotation.

Hard Disk Drive (HDD) Replacement
If you are receiving an error message or cannot get the device to boot, it might be a fault with the Drive.

Hard Disk Drive (HDD) Upgrade
If you are running low on storage space, we can install a larger drive.

Disc Drive Repair
Disc jammed/will not eject, or not reading a disc.

Power Supply Repair
If the console is completely dead, then the power supply may have blown and will need to be repaired or replaced. 

Controller Repair
Sticky, damaged or faulty buttons, analog sticks or headphone jacks can often be repaired at less than the cost of a replacement controller.




Nintendo Switch & Switch Lite Repairs

USB-C Charging Port
If the port is physically damaged, or the Switch simply will not charge, then a replacement port may be required. In some cases, we will also need to replace the M92 chip.
Price: £79.99

Game Card Reader Repair
If the reader has been physically damaged, it will need to be repaired or replaced. This component can fail, in which case it will display an error message.
Price: £69.99 - £79.99.

Joy-Con Repair
Joy-Con drift or inability to connect Joy-Con to the Switch.

Overheating
If the switch is getting hot or running poorly, it could be an issue with the internal cooling fan, or it could just need a thorough clean. 

Screen Repair
Broken glass, display, or touch screen fault.